Volkswagen Golf mk7 2013 - onwards Moulded Floor Liners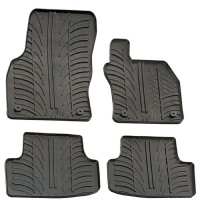 (click to enlarge)

Additional images




• Mk7 (5G) Models
Why buy our floor liners?
Protective Lip - All moulded floor liners have a raised lip around the edge, to prevent dirt and liquids from spilling onto the underlying carpet.
Durable & flexible - The material will last a long time and resist wear and tear. They are easy to fit and sit perfectly within the footwells of the floor.
Easy to clean - You can remove the floor liner at any time to wash it clean. Great for when you've trodden in mud or gravel.
Secure - Where the floor has locators or velcro, the mats are designed to attach to these with integrated locator rings or matching velcro where appropriate.
Please note that the images provided on this page are examples of this product design and not indicative of the shape and quantity of mats provided.

This mat set consists of 4 pieces.

Our Price: £49.95
Delivery on this product
Normal UK Delivery is £5.95
Can't find what you're looking for?