Audi A6 / S6 / RS6 Avant (C7; 2011 - 2018) Moulded Boot Mat

This product is not currently available to purchase.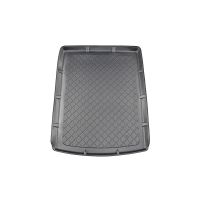 (click to enlarge)

Additional images

• Fits C7 Model
• Models WITH rails fixing system
• This means there is a gap at the side of the mat for the rails
• If you want the rails covered please order the WITHOUT rails product
• Also fits S6, RS6 and Quattro models

• Dimensions: 1170 x 910mm
(approx. 46.06 x 35.83 inches)
Why buy our boot liner?
Protective Lip - All moulded boot mats have a 5cm raised lip around the edge, to prevent loose items and liquids from spilling onto the underlying car boot.
Durable & flexible - The plastic material will last a long time and resist wear and tear. They are easy to fit and fit perfectly in the boot area.
Easy to clean - You can remove the boot liner at any time to wash it clean. Great for when you've carrried dirty dogs and loose soil home.

Upper or lower boot liners?
Some products specify that they are for the upper boot, lower boot or sometimes upper and lower. If this is not specified, they are usually for the upper boot only. Here's an explanation:
Upper Boot - The boot liner sits on top of the existing floor in the boot.
Lower Boot - The original boot floor should be lifted, usually to reveal the spare wheel, and the boot liner then sits into this area. The original boot liner should be stored somewhere safe and dry.
Upper/Lower - Some boot liners have a folding section that allow them to be fitted in either of the two positions.
Our Price: £51.99
Delivery on this product
Normal UK Delivery is £5.95
Can't find what you're looking for?
Product Reviews
Fitted perfectly. It was for the boot of my wife's new A6 Avant which has side fitting rails. She is very pleased with it. The rails are still usable, other suppliers couldn't make a mat that allowed us to still use the rails. No hesitation in recommending Simply Car Mats.