35% Discount Off Car Mats and Boot Mats
When ordering a set of floor mats or boot mat you will be offered a discount of a matching product. (Minimum order Deluxe carpet or Rubber) Offer is shown on matching product once you have added your boot mat or floor mats to the basket.
Ford Edge Car Floor Mats
We sell the following products for the Ford Edge:
Please be aware that this page may show products that are suitable for different year ranges or with specific features fitted.
Ford Edge Floor Mats
Fully Tailored Car Mats are perfectly tailored to fit into the footwells of your vehicle. Made to order from heavy duty carpet or rubber with your choices of colour, trim and embroidery.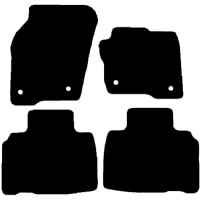 Ford Edge (CD539) (2014-2023) Car Mats
from £23.99
rrp £29.99
View Product
Car Mats for Ford Edge - Rubber Car Mats and Boot mats
Purchase Ford Edge Car Floor Mats Only From Simply Car Mats
Simply Car Mats' website has a simple interface that enables you to find car mats that are specifically made for Ford. Ford Edge car floor Mats are made to be the perfect match for your car's footwells. They're constructed of premium carpet, rubber, or other durable materials and can be customized with the choice of colors, trims as well as embroidery.
Things to Take into Account When Buying Ford Edge Car Floor Mats
When you purchase mats for your car, you must be aware of the style of materials, their appearance as well as the compatibility of the Ford model. It is advised to buy premium mats to ensure the best fit and lasting quality. Be aware of factors such as the mat's materials (carpet or rubber or a combination of both) and design (customized or regular) in addition to the style of mat that you prefer: one that is all-weather, or designed specifically for certain seasons.
Buy Quality Ford Edge Mats for Cars from Simply Car Mats
Simply Car Mats is a specialist in the selling of car accessories as well as spare parts, like car mats that fit various car models. Ford Edge car floor mats manufactured by Simply Car Mats are made of top-quality material that is designed to last for a long period of time. They shield the interior of your vehicle and keep its appearance over a lengthy period of time.
Ford car mats from Simply Car Mats may be bought starting at £23.99. Select your preferred Ford mats to fit your vehicle for a great price and you'll be satisfied throughout the lifetime. Make your purchase now and it will be delivered the next day directly to your door. Purchase Car Mats at Simply Car Mats And Receive Delivery the next day.