35% Discount Off Car Mats and Boot Mats
When ordering a set of floor mats or boot mat you will be offered a discount of a matching product. (Minimum order Deluxe carpet or Rubber) Offer is shown on matching product once you have added your boot mat or floor mats to the basket.
Mercedes EQE Saloon Car Floor Mats
We sell the following products for the Mercedes EQE Saloon:
Please be aware that this page may show products that are suitable for different year ranges or with specific features fitted.
Mercedes EQE Saloon Floor Mats
Fully Tailored Car Mats are perfectly tailored to fit into the footwells of your vehicle. Made to order from heavy duty carpet or rubber with your choices of colour, trim and embroidery.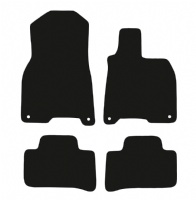 Mercedes EQE Saloon (2021-2023) Car Mats
from £23.99
rrp £29.99
View Product
Car Mats for Mercedes EQE Saloon - Rubber Car Mats and Boot mats
Personalized comfort with Mercedes EQE Saloon Car floor mats from Simply Car Mats The inside of your Mercedes EQE Saloon may be upgraded in both style and safety with the addition of our custom-made automobile car floor mats. These car floor mats aren't simply a useless add-on; they enhance the look of your car's interior while also performing an important job. Our tailored car floor mats will not only protect your EQE Saloon from everyday wear and tear but also improve its aesthetic.
Why to buy Mercedes EQE Saloon Car floor mats from Simply Car Mats?
Investing in a set of car floor mats for your Mercedes EQE Saloon from Simply Car Mats offers several benefits.
Fit precisely
Our car floor mats have been laser tailored to the precise dimensions of your Mercedes EQE Saloon. Your car's carpeting will be covered and protected to the maximum extent feasible.
High quality
To ensure that your car retains its sophisticated air even after extensive usage, we focus first and foremost on utilizing high-quality materials that are durable and visually beautiful. We have built a loyal client base by our unwavering commitment to offering only the highest quality products and service.
Reasonable price
You may be certain that you won't have to choose between quality and money thanks to our reasonable pricing.
Tailor made
Our expert understanding of vehicles allows us to tailor-make Mercedes EQE Saloon car floor mats just for your vehicle.
Our dedication to quality, consistency, and customer trust has made us a go-to source for car floor mats in the industry. Simply Car Mats provide the greatest possible protection, a stylish appearance, and a streamlined design for your high-end Mercedes EQE Saloon. Our custom-made car floor mats will not only enhance the appearance and feel of your vehicle's interior, but also your time behind the wheel.