35% Discount Off Car Mats and Boot Mats
When ordering a set of floor mats or boot mat you will be offered a discount of a matching product. (Minimum order Deluxe carpet or Rubber) Offer is shown on matching product once you have added your boot mat or floor mats to the basket.
Volkswagen Amarok Car Floor Mats
We sell the following products for the Volkswagen Amarok:
Please be aware that this page may show products that are suitable for different year ranges or with specific features fitted.
Volkswagen Amarok Floor Mats
Fully Tailored Car Mats are perfectly tailored to fit into the footwells of your vehicle. Made to order from heavy duty carpet or rubber with your choices of colour, trim and embroidery.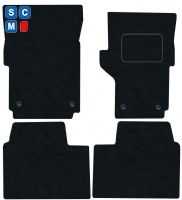 Volkswagen Amarok (2011-2023) Car Mats
from £23.99
rrp £29.99
View Product
Car Mats for Volkswagen Amarok - Rubber Car Mats and Boot mats
Volkswagen Amarok car floor Mats - Superior Quality and Longevity
Our Volkswagen Amarok car Floor Mats are carefully made to offer the best protection and longevity on the market. These custom-fit mats are made of high-quality materials and are made to fit the exact shape of your Amarok's interior. Their backs don't slip, so they stay in place and make for a safe and easy ride. Our reliable and long-lasting floor mats will protect the floor of your car from dirt, spills, and wear.
Comfort and Style in One: Volkswagen Amarok Semi-Tailored Seat Covers
Our Semi-Tailored Seat Covers will improve the look and feel of the seats in your Volkswagen Amarok. These seat covers are tailor-made to provide a snug and fashionable fit. They are resistant to dirt, liquids, and general wear and tear because they are crafted from high-quality materials. Our semi-tailored seat covers will update the interior of your Amarok with a touch of refinement, raising the bar for your driving experience.
Rubber Floor Mats & Trunk Mat to fit Volkswagen Amarok cars
Our selection of car mats includes options to protect your Volkswagen Amarok's flooring. In spite of extreme conditions, our Rubber Car Mats and Boot Mats will keep their original form, functionality, and durability. The car floor of your Amarok will be protected from dirt, debris, and dampness thanks to these mats, which are also simple to clean. You can trust our high-quality car mats to keep your vehicle safe while you're on the road.
In conclusion, Simply Car Mats offers high-quality add-ons that will improve the Amarok's cabin. Our Volkswagen Amarok car floor mats are the toughest and most long-lasting on the market, and our semi-custom seat covers are both comfortable and stylish. Check out the rubber floor mats and boot mats we have available for the Volkswagen Amarok. Simply Car Mats are a great way to improve your ride and keep your car in pristine condition.