35% Discount Off Car Mats and Boot Mats
When ordering a set of floor mats or boot mat you will be offered a discount of a matching product. (Minimum order Deluxe carpet or Rubber) Offer is shown on matching product once you have added your boot mat or floor mats to the basket.
Mercedes SLS Car Floor Mats
We sell the following products for the Mercedes SLS:
Please be aware that this page may show products that are suitable for different year ranges or with specific features fitted.
Mercedes SLS Floor Mats
Fully Tailored Car Mats are perfectly tailored to fit into the footwells of your vehicle. Made to order from heavy duty carpet or rubber with your choices of colour, trim and embroidery.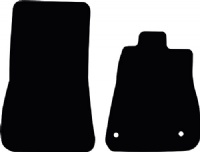 Mercedes SLS (2010-2015) Mats
from £23.99
rrp £29.99
View Product
Car Mats for Mercedes SLS - Rubber Car Mats and Boot mats
Putting in new luxury car floor mats and boot mats is a great way to update the inside of your Mercedess SLS. The inside of your car will be protected and more pleasant with these car floor mats made specifically for your vehicle.
Sleek and safe Mercedes SLS Car floor mats from Simply Car Mats
Our Mercedes SLS car floor mats are the absolute height of style and practicality, and we guarantee that you will be very delighted with both our product and our level of customer service. Stylish and practical, these custom-fit car floor mats are the perfect solution for protecting the carpet in your SLS cabin and trunk.
Why to buy Mercedes SLS Car floor mats from Simply Car Mats?
When shopping for Mercedes SLS Car Floor Mats and Boot Mats, you should go with Simply Car Mats since we provide a safe and visually beautiful option.
• Maximum safety
Custom-made for your Mercedes SLS, our car floor mats and boot liners provide the best possible protection for your vehicle's flooring, seat backs, and cargo area.
• Superlative quality
We take great care to only utilize the highest quality materials in the production of our car floor mats. Keeping them in such pristine condition ensures that they will last through several washes and years of normal wear and tear.
• Various Prospects
With so many styles, fabrics, and hues to choose from, fashion has become an increasingly accessible means of self-expression. You may discover both up-to-date styles and timeless elegance among our offerings.
• Easy to disinfect
Our SLS Car Floor Mats and Boot Mats are simple to clean with a damp cloth, so they need no additional maintenance. They may be simply taken out and shook, vacuumed, or cleaned to restore their original look and scent.
The overwhelmingly favorable feedback we've received from our loyal clientele is proof of the superior quality of our wares and the exceptional standard of care we deliver. Investing in a set of Mercedes SLS Car Floor Mats and Boot Mats from Simply Car Mats is about more than simply protecting the floor of your vehicle, it's about enhancing your life on the road.