35% Discount Off Car Mats and Boot Mats
When ordering a set of floor mats or boot mat you will be offered a discount of a matching product. (Minimum order Deluxe carpet or Rubber) Offer is shown on matching product once you have added your boot mat or floor mats to the basket.
Mercedes X Class Car Floor Mats
We sell the following products for the Mercedes X Class:
Please be aware that this page may show products that are suitable for different year ranges or with specific features fitted.
Mercedes X Class Floor Mats
Fully Tailored Car Mats are perfectly tailored to fit into the footwells of your vehicle. Made to order from heavy duty carpet or rubber with your choices of colour, trim and embroidery.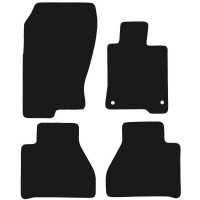 Mercedes X Class (2017-2023) Car Mats
from £23.99
rrp £29.99
View Product
Car Mats for Mercedes X Class - Rubber Car Mats and Boot mats
Premium car floor mats, with their plush carpeting and innovative designs, are a great way to both protect the value of your Mercedes X Class and show off your sophisticated taste.
Boost your confidence with Mercedes X Class Car floor mats from Simply Car Mats
The Mercedes X Class is a gateway to a life of leisure and comfort. Our car floor mats combine a sleek design with durable construction. Your Mercedes X Class warranted specially crafted car floor mats to meet its unique requirements.
Why to buy Mercedes X Class Car floor mats from Simply Car Mats?
Simply Car Mats' Mercedes X Class custom-fit car floor mats are the best option if you want to improve the look inside your car.
• Made to order
Our tailored car floor mats are the best way to ensure that the carpeting in your Mercedes X Class remains in pristine condition.
• Superlative quality
We take great care in choosing high-quality components to use in the production of our car floor mats. This dedication ensures that you will get first-rate support for years to come.
• Different Patterns
The colors, patterns, and sheens may all be customized to your liking. No matter whether you want to restore the X Class's original appearance or give it a modern makeover, we provide the components you need.
• Easy to disinfect
Our car floor mats are low-maintenance and simple to clean. They may be simply taken out and shook, vacuumed, or cleaned to restore their original look and scent.
The overwhelmingly favorable feedback we've received from our loyal clientele is proof of the superior quality of our wares and the exceptional standard of care we deliver. Simply Car Mats' tailored-to-fit Mercedes X Class car floor mats satisfy more than just a functional need. They are a worthwhile investment in terms of the safety, longevity, and aesthetic value of your car's interior.