35% Discount Off Car Mats and Boot Mats
When ordering a set of floor mats or boot mat you will be offered a discount of a matching product. (Minimum order Deluxe carpet or Rubber) Offer is shown on matching product once you have added your boot mat or floor mats to the basket.
Mercedes SLC Car Floor Mats
We sell the following products for the Mercedes SLC:
Please be aware that this page may show products that are suitable for different year ranges or with specific features fitted.
Mercedes SLC Floor Mats
Fully Tailored Car Mats are perfectly tailored to fit into the footwells of your vehicle. Made to order from heavy duty carpet or rubber with your choices of colour, trim and embroidery.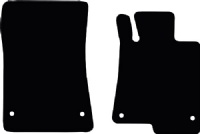 Mercedes SLC (2016-2023) (R172) Car Mats
from £23.99
rrp £29.99
View Product
Car Mats for Mercedes SLC - Rubber Car Mats and Boot mats
Upgrade your ride with Mercedes SLC Car floor mats from Simply Car Mats
Mercedes SLC car floor mats employ high-quality fabrics and are expertly hand-stitched to create a product that is both aesthetically pleasing and very practical. These custom-fit car floor mats were made just for your SLC, and they're a terrific way to both improve the look and functionality of your vehicle's interior.
Why to buy Mercedes SLC Car floor mats from Simply Car Mats?
If you want to replace the carpeting inside of your Mercedes SLC, your best bet is to check out the options at Simply Car Mats.
• Just right
Our Mercedes SLC Car Floor Mats are laser manufactured to exact specifications for your vehicle's carpeted flooring.
• Superlative quality
We take great care in choosing high-quality components to use in the production of our car floor mats. This dedication ensures that you will get first-rate support for years to come.
• Big ideas
The colors, patterns, and sheens may all be customized to your liking. No matter your own style, you'll find something to love in our assortment that will complement your SLC.
• Customized Professionalism
Our constant dedication to quality guarantees that you will get a finished product that meets all of your SLC's requirements. When drawing out plans for your high-end car, accuracy is of the utmost importance.
Our helpful customer service representatives are standing by to respond to any inquiries you may have. Because we appreciate you as a client and want you to be happy with your purchase, we promise to provide you with the best service possible. To prevent the carpet in your vehicle from wearing out prematurely and looking shabby, invest in some Mercedes SLC Car Floor Mats from Simply Car Mats. It's also about infusing your commute with an air of opulence.