35% Discount Off Car Mats and Boot Mats
When ordering a set of floor mats or boot mat you will be offered a discount of a matching product. (Minimum order Deluxe carpet or Rubber) Offer is shown on matching product once you have added your boot mat or floor mats to the basket.
Volkswagen ID-3 Car Floor Mats
We sell the following products for the Volkswagen ID-3:
Please be aware that this page may show products that are suitable for different year ranges or with specific features fitted.
Volkswagen ID-3 Floor Mats
Fully Tailored Car Mats are perfectly tailored to fit into the footwells of your vehicle. Made to order from heavy duty carpet or rubber with your choices of colour, trim and embroidery.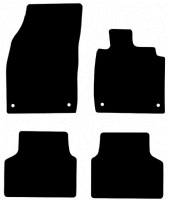 Volkswagen ID-3 (2020-2023) Car Mats
from £23.99
rrp £29.99
View Product
Car Mats for Volkswagen ID-3 - Rubber Car Mats and Boot mats
Get Quality Volkswagen ID-3 Car Floor Mats From Simply Car Mats
If you're looking for elegant and affordable car floor mats to fit your Volkswagen ID-3, then Simply Car Mats can provide you with that. Mats made of rubber can be a great choice for people who are looking for an easy-to-clean and durable alternative. Rubber mats are immune to mildew and mold. Carpet floor mats, on the other hand, can be a better option that can provide elegance to your vehicle's interior. Carpet mats are more comfortable than floor mats made of rubber.
Features and specifications for Volkswagen ID-3 Car Floor Mats
Simply Car Mats make durable carpet and rubber material car mats. They are slightly raised to stop water and dirt from entering and are designed to fit the curves of your car's floor. The Volkswagen ID-3 Car Floor Mats are available in a range of colors, designs, and styles.
The benefit of using the Volkswagen ID-3 Car floor mats is that they shield your carpet from water, dirt as well as wear and tear. They can help keep the interior of your vehicle well-maintained, and neat, and could add a dash of elegance to your car's interior.
The products for Volkswagen ID-3 Car at Simply Car Mats are available including Volkswagen ID-3 (2020-2023) Car Mats and Volkswagen ID 3 - Semi-Tailored Seat Covers. Order these products for your Volkswagen ID-3 and get super fast delivery directly to your home in 3-7 days across the UK. Buy, install, and forget about your struggles with car mats.