35% Discount Off Car Mats and Boot Mats
When ordering a set of floor mats or boot mat you will be offered a discount of a matching product. (Minimum order Deluxe carpet or Rubber) Offer is shown on matching product once you have added your boot mat or floor mats to the basket.
Volkswagen ID-4 Car Floor Mats
We sell the following products for the Volkswagen ID-4:
Please be aware that this page may show products that are suitable for different year ranges or with specific features fitted.
Volkswagen ID-4 Floor Mats
Fully Tailored Car Mats are perfectly tailored to fit into the footwells of your vehicle. Made to order from heavy duty carpet or rubber with your choices of colour, trim and embroidery.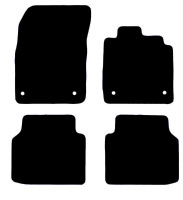 Volkswagen ID-4 (2020-2023) Car Mats
from £23.99
rrp £29.99
View Product
Car Mats for Volkswagen ID-4 - Rubber Car Mats and Boot mats
Upgrade to Premium Volkswagen ID-4 Car Floor Mats From Simply Car Mats
Premium floor mats made for Volkswagen. Upgrading to tailored floor mats from Simply Car Mats can be the best decision for your car. They fit perfectly and will give your car a luxurious and polished look. Real-life experiences and satisfaction levels with premium car floor mats showcase their worth and the impact they can have on your driving experience.
Upgrading your Volkswagen ID-4 with premium car floor mats is a sure way to enhance your driving experience. From elevating luxury and comfort to protecting against wear and tear, these mats offer a range of benefits that go beyond aesthetics. Driving in luxury is not limited to the exterior design of your Volkswagen; it extends to every detail of your vehicle's interior. Tailored floor mats provide a finishing touch that showcases your dedication to both style and functionality.
The product available for Volkswagen ID-4 Car at Simply Car Mats is Volkswagen ID-4 (2020-2023) Car Mats. By choosing premium car floor mats from Simply Car Mats, you can enjoy a comfortable, stylish, and safe driving experience that truly sets your car apart from the rest.
Order Volkswagen ID-4 Car Floor Mats & Get Fast Delivery to Your Home
Ordering car floor mats from Simple Car Mats is quite easy. You have to follow some steps. Firstly go to simplycarmats.co.uk and then search for your desired Volkswagen car floor mats. Select the color, design, and material of your choice. Lastly, purchase the selected car floor mats or boot mats through your preferred mode of payment. The shipment will be delivered to your door in about 3-7 days with our fast mode of delivery.