35% Discount Off Car Mats and Boot Mats
When ordering a set of floor mats or boot mat you will be offered a discount of a matching product. (Minimum order Deluxe carpet or Rubber) Offer is shown on matching product once you have added your boot mat or floor mats to the basket.
BMW i3 Car Floor Mats
We sell the following products for the BMW i3:
Please be aware that this page may show products that are suitable for different year ranges or with specific features fitted.
BMW i3 Floor Mats
Fully Tailored Car Mats are perfectly tailored to fit into the footwells of your vehicle. Made to order from heavy duty carpet or rubber with your choices of colour, trim and embroidery.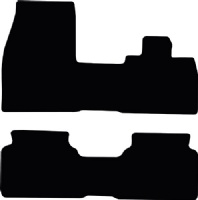 BMW i3 (2013-2023) (4x Velcro Fitting) Car Mats
from £23.99
rrp £29.99
View Product
Car Mats for BMW i3 - Rubber Car Mats and Boot mats
Make a statement with our authentic BMW i3 car accessories
Bespoke options for every BMW i3 owner
If you own a BMW i3, you know that your car demands personalisation and only the highest quality accessories. Our range of car mats and seat covers offer numerous options to fit your unique style preferences, all based on genuine OEM designs.
The perfect fit for your BMW i3
You can choose from our standard, deluxe, super deluxe and ultra deluxe mats, or select from a variety of heavy-duty rubber trims if design is not your primary concern. We also offer embroidered front and rear mats to add a personal touch to your car's interior, as well as heavy-duty quilted semi-tailored seat covers in leatherette or cloth materials.
Durable materials that are made to last
All our products use high-quality materials that are specifically designed for durability and longevity. Whether you opt for the luxurious leatherette or the practical rubber variants, our products are guaranteed to keep your car interiors looking new for years.
Easy installation and maintenance
Our products are designed with ease of installation in mind. They fit seamlessly into your car without any hassle, allowing for a quick upgrade every time you feel like giving your BMW i3's interiors a fresh new look. They are also easy to clean so that they can stay looking their best over time.
Rocket your driving experience today!
Select from our range of superior quality car mats and seat covers to give an upgrade to the interiors of your BMW i3 today. The perfect fit and exceptional quality will ensure you get the best value for your money. Order now and turn your vehicle into a statement of style and sophistication!