35% Discount Off Car Mats and Boot Mats
When ordering a set of floor mats or boot mat you will be offered a discount of a matching product. (Minimum order Deluxe carpet or Rubber) Offer is shown on matching product once you have added your boot mat or floor mats to the basket.
Ford Scorpio Car Floor Mats
We sell the following products for the Ford Scorpio:
Please be aware that this page may show products that are suitable for different year ranges or with specific features fitted.
Ford Scorpio Floor Mats
Fully Tailored Car Mats are perfectly tailored to fit into the footwells of your vehicle. Made to order from heavy duty carpet or rubber with your choices of colour, trim and embroidery.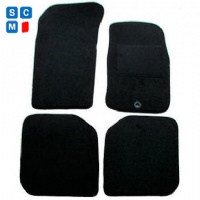 Ford Scorpio (1994-1998) Car Mats
from £23.99
rrp £29.99
View Product
Car Mats for Ford Scorpio - Rubber Car Mats and Boot mats
Ford Scorpio Car Floor Mats: Fashion and Safety With No Compromise
Our premium car floor mats are designed to safeguard the interior of your Ford Scorpio Car while making an appearance. These car floor mats have been designed with precision and care which means they provide the most effective protection from dust, spills, and wear. Simply Car Mats are available with a range of different substances, including durable carpet and rubber, therefore you are able to pick one that best suits your preferences and style of living.
Ford Scorpio Car Floor Mats and Boot Mats Keep Your boot Area Clean
Regardless of whether you're carrying your luggage, food, and sports equipment, the Ford Scorpio boot mats are ideal for keeping your car's cargo area tidy. The boot mats are designed to perfectly fit in your vehicle and guard against scratches, spills, wear and tear from everyday use. It is possible to select from various designs and materials that blend functionality and style. It is possible to count on Simply Car Mats to furnish our customers with only the highest quality Ford Scorpio accessories.
Ford Scorpio Semi-Tailored Seat Covers Enhance the Comfort of Your Vehicle
Semi-tailored seat covers enhance the interior of the Ford Scorpio Car look better. The custom-fit seats will not just shield your seats from spills, scratches, discoloration, and fading, but they also add to your car's interior with a stylish look. They are made of high-end materials. These covers are snugly fitted and will stand all the demands of everyday use in order to keep your passengers and you at the most comfortable possible position.