35% Discount Off Car Mats and Boot Mats
When ordering a set of floor mats or boot mat you will be offered a discount of a matching product. (Minimum order Deluxe carpet or Rubber) Offer is shown on matching product once you have added your boot mat or floor mats to the basket.
BMW i8 Car Floor Mats
We sell the following products for the BMW i8:
Please be aware that this page may show products that are suitable for different year ranges or with specific features fitted.
BMW i8 Floor Mats
Fully Tailored Car Mats are perfectly tailored to fit into the footwells of your vehicle. Made to order from heavy duty carpet or rubber with your choices of colour, trim and embroidery.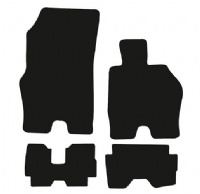 BMW i8 (2014-2023) (4x Velcro Fitting) Car Mats
from £23.99
rrp £29.99
View Product
Car Mats for BMW i8 - Rubber Car Mats and Boot mats
BMW i8 Car Floor Mats can help you improve the look of your interior
Simply Car Mats provides the ideal solution for protecting and improving the interior of your BMW i8. Our quality automobile car mats are custom-made to fit your vehicle, delivering both flair and usefulness. Our BMW i8 car floor mats are made of high-quality materials such as sturdy rubber and luxury carpet, and they provide remarkable durability and resistance to dirt, spills, and wear. With our high-quality floor mats, you may improve your driving pleasure while also keeping your interior in excellent shape.
Semi-tailored seat covers for the BMW i8: Protection with Style
With our BMW i8 Semi-Tailored Seat Covers, you can maintain the elegance of your BMW i8's seats. These seat covers, which are made of high-quality materials, offer exceptional defense against stains, fading, and normal wear and tear. The semi-tailored design ensures a perfect fit and improves the inside appearance of your car. The seat covers from Simply Car Mats add a dash of luxury and sophistication while preserving the durability of your seats.
Rubber car mats and boot mats are your best choice for protecting your BMW i8
We at Simply Car Mats recognize how critical it is to protect your BMW i8 from regular use. We, therefore, provide a wide selection of boot mats and car mats that are customized especially for your automobile. Our rubber vehicle mats offer excellent protection because they are made to withstand mud, spills, and grime. Our carpet vehicle mats provide a soft and fashionable alternative for customers looking for an opulent touch. Our boot mats also offer dependable defense against dings and stains, guaranteeing that your trunk stays spotless.
Simply Car Mats' superior automobile floor mats, semi-tailored seat covers, and boot mats will transform your BMW i8. Our handcrafted accessories provide outstanding protection while also adding to the charm and sophistication of your environment. Whether you like the durability of rubber or the sumptuous feel of carpet, our car mats are custom-fit to your BMW i8. Explore our inventory today to find the ideal balance of functionality and beauty for your luxury vehicle.