35% Discount Off Car Mats and Boot Mats
When ordering a set of floor mats or boot mat you will be offered a discount of a matching product. (Minimum order Deluxe carpet or Rubber) Offer is shown on matching product once you have added your boot mat or floor mats to the basket.
Ford Grand Tourneo Connect Car Floor Mats
We sell the following products for the Ford Grand Tourneo Connect:
Please be aware that this page may show products that are suitable for different year ranges or with specific features fitted.
Ford Grand Tourneo Connect Floor Mats
Fully Tailored Car Mats are perfectly tailored to fit into the footwells of your vehicle. Made to order from heavy duty carpet or rubber with your choices of colour, trim and embroidery.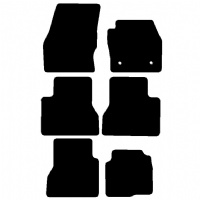 Ford Grand Tourneo Connect (2013-2023) Car Mats
from £26.99
rrp £40.49
View Product
Car Mats for Ford Grand Tourneo Connect - Rubber Car Mats and Boot mats
Get Custom-Made Ford Grand Tourneo Connect Car Mats From Simply Car Mats
Simply Car Mats offer a custom fitting, securing the sides and floors of the car, in order to shield your boot from spills and dirt. The team at Simply Car Mats creates high-quality, mats for cars made of rubber, carpet, as well as boot mats that fit a variety of car models, such as Ford. The car mats we make are of premium quality with a top-quality appearance.
Specifications of Car Mats From Simply Car Mats
The items are offered in different colors and along with trims that match. There are four colors to choose from grey, blue, black, and navy.
Car mats are manufactured out of durable and waterproof substances.
There are lock options on the edges. They are there to secure the mats in place so they don't slip off.
Mats come with a split option in models with seats that are split at the rear.
An extended rear section folds up to protect and cover the bumper on the rear.
Wash them in the machine at 30 degrees (Do not use the softener for fabric).
Order Car Mats for Your Ford Grand Tourneo Connect Vehicle From Us
Making your purchase of car mats at Simply Car Mats is simple. Simply search for your car model on our website. Select your car's model and the year of your car and choose the mat that you like with or without any modifications. Then place your order with your preferred mode of payment. The purchased product will be delivered to your residence with our speedy delivery.