35% Discount Off Car Mats and Boot Mats
When ordering a set of floor mats or boot mat you will be offered a discount of a matching product. (Minimum order Deluxe carpet or Rubber) Offer is shown on matching product once you have added your boot mat or floor mats to the basket.
Mercedes EQV Car Floor Mats
We sell the following products for the Mercedes EQV:
Please be aware that this page may show products that are suitable for different year ranges or with specific features fitted.
Mercedes EQV Floor Mats
Fully Tailored Car Mats are perfectly tailored to fit into the footwells of your vehicle. Made to order from heavy duty carpet or rubber with your choices of colour, trim and embroidery.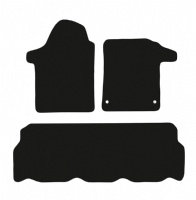 Mercedes EQV - (2020-2023) Car Mats
from £23.99
rrp £29.99
View Product
Car Mats for Mercedes EQV - Rubber Car Mats and Boot mats
Ride in style with Mercedes EQV Car Floor Mats from Simply Car Mats
Our premium Mercedes EQV car floor mats are a simple and inexpensive way to improve the look and usefulness of your vehicle. The high-end design and meticulous engineering of our car floor mats ensure that they will keep your EQV's flooring free from dirt and moisture without sacrificing style.
Why to buy Mercedes EQV Car Floor Mats from Simply Car Mats?
We promise that you will be satisfied with your purchase of high quality Mercedes EQV car floor mats made by Simply Car Mats. If you want to upgrade your car's interior, you may put your faith in us for the following reasons:
• Fit precisely
Our Mercedes EQV Car Floor Mats are custom-made to suit the inside of your vehicle's footwell and to provide maximum flooring protection.
• Durable
Our car floor mats are constructed with high-quality materials that are durable and won't wear out quickly. Choose from a wide variety of materials, from plush carpet to durable rubber, to best fit your needs.
• Different hues
Various options in hue, pattern, and surface treatment let you show off your own flair. Whether you're opting for a classic or modern look, we offer options that will complement your EQV's interior decor.
• Easy to clean
Our EQV Car Floor Mats need nothing in the way of upkeep and are easily wiped clean. Taking them out and shaking, cleaning, or washing them will keep them looking as good as new.
Our website is user-friendly and provides a hassle-free buying experience. Our website has detailed product descriptions, images, and straightforward navigation to assist you in selecting the best pair of EQV car floor mats for your car. When you decide to purchase a pair of Mercedes EQV Car Floor Mats from Simply Car Mats, you're making a statement about how seriously you value the comfort and safety of everyone in your vehicle without compromising your personal sense of elegance and refinement behind the wheel.