35% Discount Off Car Mats and Boot Mats
When ordering a set of floor mats or boot mat you will be offered a discount of a matching product. (Minimum order Deluxe carpet or Rubber) Offer is shown on matching product once you have added your boot mat or floor mats to the basket.
Ford Explorer Car Floor Mats
We sell the following products for the Ford Explorer:
Please be aware that this page may show products that are suitable for different year ranges or with specific features fitted.
Ford Explorer Floor Mats
Fully Tailored Car Mats are perfectly tailored to fit into the footwells of your vehicle. Made to order from heavy duty carpet or rubber with your choices of colour, trim and embroidery.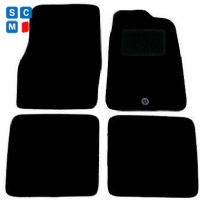 Ford Explorer (1997-2001) Car Mats
from £23.99
rrp £29.99
View Product
Car Mats for Ford Explorer - Rubber Car Mats and Boot mats
Get Premium Ford Explorer Car Floor Mats From Simply Car Mats
We, at Simply Car Mats offer car mats specifically designed for use with the Ford Explorer. We sell car mats that come with more than 30k options and variants that comprise car mats from various brands like Audi, BMW, Mercedes, Volkswagen, and many more. Make sure you give the Ford Explorer the added protection you need by picking mats made of carpet or rubber depending on the style you prefer. Pick one of the Ford Explorer car mats and boot mats for your particular year. Then, select the rubber or carpet mats.
Different Products Available At Simply Car Mats
We are a specialist in auto mats and boot mats as well as quilted boot liners for Ford Explorer. The range includes mats composed of rubber, as well as high-end mats constructed of super-rubber that conform to the form of the Ford Explorer Floor. They come with the needed flooring fixators.
Custom-designed boot mats for your vehicle are created to guarantee a perfect size for the boot of your vehicle. The quilted boot liner is hand-crafted and offers durable and strong safeguards for the boot of your car. The boot liner is made from substances that are waterproof and can be found in a variety of shades. Semi-Tailored Seat Covers offer tough protection to your seats and are offered in a range of colors and designs. These items protect Ford Explorer and its Seats from dust and spills.
Order Ford Explorer Car Mats and Boot Mats From Simply Car Mats and receive super-fast delivery with your purchase of auto accessories, such as rubber mats, boot mats, and carpet mats.