35% Discount Off Car Mats and Boot Mats
When ordering a set of floor mats or boot mat you will be offered a discount of a matching product. (Minimum order Deluxe carpet or Rubber) Offer is shown on matching product once you have added your boot mat or floor mats to the basket.
Ford Sierra Car Floor Mats
We sell the following products for the Ford Sierra:
Please be aware that this page may show products that are suitable for different year ranges or with specific features fitted.
Ford Sierra Floor Mats
Fully Tailored Car Mats are perfectly tailored to fit into the footwells of your vehicle. Made to order from heavy duty carpet or rubber with your choices of colour, trim and embroidery.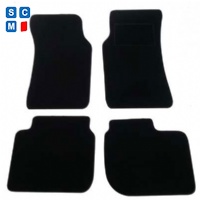 Ford Sierra (1982-1993) Car Mats
from £23.99
rrp £29.99
View Product
Car Mats for Ford Sierra - Rubber Car Mats and Boot mats
Ford Sierra Car Floor Mats Complete Security and Coverage for All Trips
Simply Car Mats carries a vast selection of Ford Sierra Car Floor Mats. Rubber floor mats as well as trunk mats are indestructible to mud, water, snow, and ice, making sure that the interior of your car looks new regardless of the season. Car mats from Simply Car Mats are stylish and practical because of their non-slip backings and clean patterns.
Test Simply Car Mats and see the difference by Yourself
Simply Car Mats is the preferred brand for reliable flooring protection for your vehicle. We will always supply our customers with top-quality accessories that are more than you'd anticipate from us. The Ford Sierra Car add-ons will improve the appearance of your vehicle, prolong the life of your car, and enhance your driving experience.
Simply Car Mats provides an extensive assortment of add-ons for your Ford Sierra. The products we offer range from car floor mats, trunk liners to semi-customized seats designed to last, while also adding the perfect touch of elegance to your car.
Simply Car Mats are a great platform to transform your Ford Sierra Car
Simply Car Mats is a great option to purchase Ford Sierra Car accessories. Since we are concerned about durability and quality, you can count on us to supply you with products that go above what you'd think you will receive. Through the Ford Sierra Car floor mats and boot mats, you'll be able to make your vehicle appear better, last longer, and also make it more enjoyable.