35% Discount Off Car Mats and Boot Mats
When ordering a set of floor mats or boot mat you will be offered a discount of a matching product. (Minimum order Deluxe carpet or Rubber) Offer is shown on matching product once you have added your boot mat or floor mats to the basket.
Ford Zodiac Car Floor Mats
We sell the following products for the Ford Zodiac:
Please be aware that this page may show products that are suitable for different year ranges or with specific features fitted.
Ford Zodiac Floor Mats
Fully Tailored Car Mats are perfectly tailored to fit into the footwells of your vehicle. Made to order from heavy duty carpet or rubber with your choices of colour, trim and embroidery.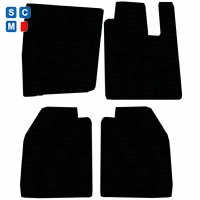 Ford Zodiac (1962-1966) Car Mats
from £23.99
rrp £29.99
View Product
Car Mats for Ford Zodiac - Rubber Car Mats and Boot mats
Ford Zodiac Car Floor Mats - A Combination of Style and Protection
Our high-quality manufactured car mats are designed to safeguard the interior of the Ford Zodiac car while making the appearance more appealing. Car floor mats from Simply Car Mats are designed with quality and are the ideal protection against spills, dirt, and wear. We offer a variety of options, including tough rubber mats as well as comfortable carpet mats that will fit your style and taste.
Ford Zodiac Boot Mats: Style Your Boot Area
Make sure the Ford Zodiac's trunk space is tidy and well-organized by using our boot mats. They are made to perfectly fit and provide great protection from scratches, spills, and wear and tear. Select from a wide range of styles and materials to choose the ideal boot mat, which combines practicality and aesthetics.
Ford Zodiac Quilted Trunk Liners: Optimal Safety and Good Looks
The quilted boot liner to fit those who own the Ford Zodiac will give you the most secure and stylish appearance. These customized covers guard your boot, but they also bring a sense of class to the interior of your vehicle. They feature a high-quality quilted style. These covers provide the highest protection against debris, dirt, and spills.
Ford Zodiac Semi-Tailored Seat Covers: Comfort and Preservation
The semi-customized seat covers we offer provide a wonderful method to boost the style and feel of the Ford Zodiac. They'll ensure that your vehicle's upholstery is free of fading or spills as well as giving the car an appearance with refined elegance. The seat covers are constructed with high-end fabrics, provide an incredibly comfortable fit and will stand the test of time yet provide your passenger's supreme convenience.