35% Discount Off Car Mats and Boot Mats
When ordering a set of floor mats or boot mat you will be offered a discount of a matching product. (Minimum order Deluxe carpet or Rubber) Offer is shown on matching product once you have added your boot mat or floor mats to the basket.
BMW iX1 Car Floor Mats
We sell the following products for the BMW iX1:
Please be aware that this page may show products that are suitable for different year ranges or with specific features fitted.
BMW iX1 Floor Mats
Fully Tailored Car Mats are perfectly tailored to fit into the footwells of your vehicle. Made to order from heavy duty carpet or rubber with your choices of colour, trim and embroidery.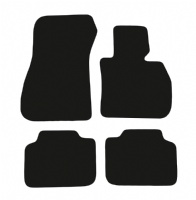 BMW iX1 (2021-2023) Car Mats
from £23.99
rrp £29.99
View Product
Car Mats for BMW iX1 - Rubber Car Mats and Boot mats
BMW iX1 Car Floor Mats: A Great Way to Improve Your Vehicle's Interior
BMW iX1 Car floor mats from Simply Car Mats will keep your car's flooring in pristine condition while also adding a touch of style. Our high-quality car floor mats are custom-tailored to precisely match the interior of your vehicle. Our BMW iX1 floor mats are made out of premium materials like rubber, making them resistant to dirt, spills, and wear. Our high-quality floor mats will improve your ride and help you maintain a spotless cabin.
Rubber Floor Mats and Boot Car Mats for Your BMW iX1
Simply Car Mats is aware of how significant it is that your BMW iX1 be in pristine condition. Because of this, we provide a variety of car mats and trunk mats that are made to fit your vehicle. All-weather rubber construction means our floor mats are impervious to water, mud, and other messy elements. Moreover, our boot mats provide sturdy defence against scratches and stains, guaranteeing the pristine condition of your trunk.
In conclusion, Simply Car Mats has excellent car mats for the floor and boot of your BMW iX1. Our accessories are carefully developed to provide top-notch defence against the elements while also boosting your home's aesthetic and practical value. Our BMW iX1-specific car floor mats are available in both rugged rubber and plush carpeting to suit any driver's preference. Discover the ideal equilibrium of form and function for your high-end automobile among our offerings today. Put your faith in Simply Car Mats to supply you with products that not only satisfy but also surpass your standards.