35% Discount Off Car Mats and Boot Mats
When ordering a set of floor mats or boot mat you will be offered a discount of a matching product. (Minimum order Deluxe carpet or Rubber) Offer is shown on matching product once you have added your boot mat or floor mats to the basket.
Mercedes EQE SUV Car Floor Mats
We sell the following products for the Mercedes EQE SUV:
Please be aware that this page may show products that are suitable for different year ranges or with specific features fitted.
Mercedes EQE SUV Floor Mats
Fully Tailored Car Mats are perfectly tailored to fit into the footwells of your vehicle. Made to order from heavy duty carpet or rubber with your choices of colour, trim and embroidery.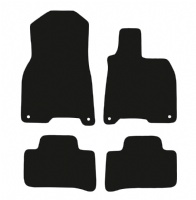 Mercedes EQE SUV (2021-2023) Car Mats
from £23.99
rrp £29.99
View Product
Car Mats for Mercedes EQE SUV - Rubber Car Mats and Boot mats
Splash of Luxury with Mercedes EQE SUV Car floor mats from Simply Car Floor Mats
Our tailored Mercedes EQE SUV car floor mats provide a greater level of comfort and safety than anything else on the market for this kind of car. These tailored car floor mats will not only keep your EQE SUV looking wonderful, but they will also shield it from the weather and daily wear and tear. You may select the correct accessories for your Mercedes-Benz EQE SUV on a trip where fashion and function collide.
Why to buy Mercedes EQE SUV Car floor mats from Simply Car Floor Mats?
There are several advantages to investing in a set of car floor mats for your Mercedes EQE SUV from Simply Car Mats.
Good protection
Our car floor mats have been custom made to suit the inside carpeting of your Mercedes EQE SUV like a glove, protecting it from wear and tear and keeping it in pristine condition.
Excellent
We exclusively use high-quality supplies that can withstand repeated handling without compromising their elegant look and feel.
Easy to clean
Because of how easy our car floor mats are to clean and maintain, you can keep the interior of your car looking like new with less effort.
Reasonable pricing
You may be certain that you won't have to choose between quality and money thanks to our reasonable pricing.
The Mercedes EQE SUV car floor mats from Simply Car Mats are the right combination of luxury, safety, and utility to elevate the quality of your ride without sacrificing any of its sport usefulness.