35% Discount Off Car Mats and Boot Mats
When ordering a set of floor mats or boot mat you will be offered a discount of a matching product. (Minimum order Deluxe carpet or Rubber) Offer is shown on matching product once you have added your boot mat or floor mats to the basket.
Volkswagen T-Roc Car Floor Mats
We sell the following products for the Volkswagen T-Roc:
Please be aware that this page may show products that are suitable for different year ranges or with specific features fitted.
Volkswagen T-Roc Floor Mats
Fully Tailored Car Mats are perfectly tailored to fit into the footwells of your vehicle. Made to order from heavy duty carpet or rubber with your choices of colour, trim and embroidery.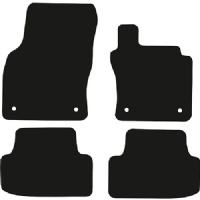 Volkswagen T-Roc (2017-2023) Car Mats
from £23.99
rrp £29.99
View Product
Car Mats for Volkswagen T-Roc - Rubber Car Mats and Boot mats
Car Floor Mats and Semi-Tailored Seat Covers for Your Volkswagen T-Roc
Simply Car Mats has everything you need to keep your Volkswagen T-Roc safe and make it your own. Our wide range of high-quality car equipment is meant to improve the way you drive. From car floor mats to semi-tailored seat covers, we have everything your Volkswagen T-Roc needs to look good and work well.
Style and Protection in Volkswagen T-Roc Car Floor Mats
Our Volkswagen T-Roc car floor mats are precisely tailored to the exact specifications of your vehicle's carpeting. These car floor mats are built to last and provide extra defense against messes and spills. You may discover the best mats to complement the design of your T-Roc among a wide selection of styles and materials, such as plush carpets and tough rubber.
Volkswagen T-Roc Semi-Tailored Seat Covers - Customized Comfort
Our semi-tailored seat covers for the Volkswagen T-Roc will give you the most comfort and style. These covers are made to fit the shape of your seats perfectly, giving them a sleek, custom look. Our seat covers are made from high-quality materials and protect against stains, spills, and normal wear and tear. Their stylish design also makes the inside of your T-Roc look better.
Rubber Car and Boot Mats: Superior Durability and Function
Our rubber car mats and boot mats are the best choice for Volkswagen T-Roc users who want the most durability. With their deep grooves and raised ends, these mats are designed to catch dirt, mud, and water, keeping the floor and boot area of your car clean. Our rubber mats are easy to clean and keep up. They are also made to withstand the toughest conditions, so they will keep you safe for a long time.
Simply Car Mats is committed to giving you high-quality car items that make your Volkswagen T-Roc look better and keep it safer. Invest in our quality floor mats, semi-tailored seat covers, and rubber mats today to improve the way you drive. Make your T-Roc a comfortable and stylish place to stay when you're on the road. Buy now!