Ford Fiesta 2011 - 2017 (MK7) Car Mats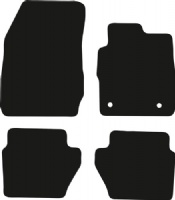 (click to enlarge)
Ford Fiesta Car Mats

From £26.99
Was £29.99
(you save £3.00)
plus £5.95 delivery per order.
• MK7 Models
• If your car has the oval Location points please choose the 2008 - 2011 product.
• 2 Round Locators

This mat set consists of 4 pieces.

FULLY fitted Car Mats provide the perfect fit. Designed to fit around the contours of the vehicle foot wells and passenger area.
Embroidery Options
– Why not personalise your mats with name or registration. See custom options below
Click back to
Ford Car Floor Mats
Can't find what you're looking for?
Full Description
FULLY fitted Car Mats provide the perfect fit. Designed to fit around the contours of the vehicles foot wells and passenger area.
FULLY fitted Car Mats are designed specifically for your Ford Fiesta, to fit the shape of your foot wells.
All carpets come with a double layer heel pad on the driver side to protect them from wear most include and a locking mechanism to prevent movement (depending on the model of vehicle). All carpet mats have a slip-resistant backing material.
We now offer all Car Mats in several grades of carpet and rubber. See below for an explanation:


Features of STANDARD carpet mats:
Hardwearing 450g carpet
Heel pad on Drivers Mats
Anti Slip Backing
Alternative colour trim options
Fitted with original clip locators where specified
Features of DELUXE carpet mats:
Additional colour options
Higher quality 650g carpet
Heel pad on Drivers Mats
Rubber anti-slip backing
Fitted with original clip locators
Alternative colour trim options
Features of SUPER DELUXE carpet mats:
Even higher quality 950g carpet
Heel pad on Drivers Mats
Rubber anti-slip backing
Fitted with original clip locators
Alternative colour trim options
Features of ULTRA DELUXE carpet mats:

Available in Black or Dark Grey
A new heavy weight carpet
Optional rubber heel pad on Drivers Mats
Anti-slip backing
Fitted with original clip locators
Alternative colour trim options
Tough and Hard Wearing
Easy Clean
Waterproof
Ideal for working vehicles and muddy feet
Available in 3mm or 4mm rubber
The Carpet is tough, strong and durable, and improves the look of your car. A heel pad on the driver's side protects the carpet from additional wear to prolong the life of your mats..
The back of the mat has a slip-resistant backing, and each is hand made in England by experienced machinists.
We can trim carpets in any of the available colours and this includes the heel pad on the driver's mat. We offer a wide choice of colours and even a selection of leatherette trims.

Edge trim is bound around the edge of the carpets and stitched securely to prevent fraying of the material.

We will include the default colour trim for your carpet choice for free, but for a small additional charge we'll use an alternative colour of your choice for that custom look!

Heel Pad Options: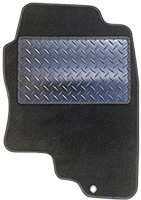 Most of our carpet floor mats include a standard heel pad at no additional charge. This is usually an additional layer of carpet in the same colour as your floor mat, with the same edge trim. It's positioned to protect your driver's mat from the additional wear of the foot movement in the footwell whilst driving.

The thicker carpets cannot have a carpet heelpad, as the materials are too thick to stitch the additonal layer. You can choose to have a rubber heelpad on this however. If you have the carpet heelpad selected when you change the material you will be alerted to any change.
We recognise that some people prefer a simpler look of a plain mat, so you can choose to have NO heelpad and the cost is the same.
We also offer a Rubber heel pad on all carpet qualities. This offers superior protection for your mat. This is a cost option as displayed above.

Embroidery Options: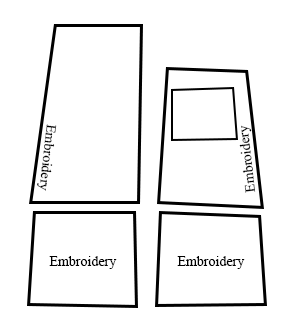 We offer custom embroidered words on carpet mats along the door-edge of the front pair, so on the right-hand side of the driver's mat and left-hand side of the passenger's. If the embroidery lettering you enter does not fit along the outside edge (sill) of the front mats, it will be placed across the mats facing the seats. For an additional charge we can also add the same writing across the centre of the rear mats. This allows you to have a unique personalised interior for your vehicle. The embroidery is machine-stitched onto a colour-matched backing that is then bonded securely onto the mat.
Choice of colour
Choice of style of writing
Your choice of words and numbers up to 20cm wide
Lettering measures around 2.54 cm tall
Optional rear mats included
Customer Product Reviews
Ford Fiesta 2011 - 2017 (MK7) Fitted Car Floor Mats
scores

4.4

out of

5
based on
61
ratings.
Good quality Matt's ,better than ford originals
Car mats delivered quickly, colour coded and embroidered as ordered, good quality and perfect fit.
Good quality, nice colour choice. My son was very pleased with the car mats.
Looks excellent with coloured trim and name.
The car mats were delivered fairly quickly great quality not disappointed would recommend to anyone who wants to get nice car mats.
Very pleased with item as it is a Christmas present thank you
Good product, promptly delivered at the right price.
Very pleased with my mats would definitely recommend to friends and family.
Product is fine and fits perfectly in the car. Not had it long enough to judge if it wears well.
Good quality product, fits well and pleased with colour.
Bought as a gift, the mats look great in my partner's newly acquired (2nd hand) Fiesta.
I think that the product is excellent and am really pleased with the car mats, the way that they fit and their overall appearance
Superb quality and looks. Highly recommended.
I ordered the midnight blue mats with the blue edging which look fantastic in my car! :)
Have shown all my friends and they are impressed
Excellent service, Very Fast Manufacturing and an Excellent Product that more than fulfilled my expectations.
These are the second set of mats I've purchased, for two separate cars. Certainly better than getting them through the manufacturer.
I purchased these mats for my partner's new Fiesta Titanium as they seemed better than the one's that Ford supply. She is very pleased with them as i have had them made with the model name embroidered on them and a border the same colour as the car around them.
Very happy with purchase mats are good quality and the personalisation of them makes them unique thank you simply car mats for a great product
Very pleased with the mats for my Fiesta, a perfect fit, I was a bit concerned about the stud fixings when ordering, but no problem at all, they are spot on.
good quality perfect fit looks good .
Very happy about the quality of the mats. Easy to fit & clean well.
Good quality and nicely finished
Not for me unable to review the product but they look fine
They look good they fit well and arrived quickly - what more could you ask ?
Identical product offered at half price at Halfords albeit in their sale. Wasn't aware of this until after I'd placed an order with yourselves but does call in to question product mark-up. SCM Response: All of our mat sets are made to fit your make and model of vehicle. Halfords do not sell this product.