Kia Rio 2012 - 2017 (MK3) (Round Locators) Car Mats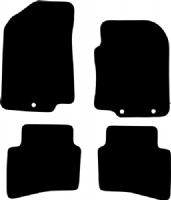 (click to enlarge)
Kia Rio Car Mats

From £26.99
Was £29.99
(you save £3.00)
plus £5.95 delivery per order.
• Round fixing for STUDS
• Comes with Two Locators in Drivers Mat and one in Passengers
• Third Generation Models
• 3 Round Locators

This mat set consists of 4 pieces.

FULLY fitted Car Mats provide the perfect fit. Designed to fit around the contours of the vehicle foot wells and passenger area.
Embroidery Options
– Why not personalise your mats with name or registration. See custom options below
Click back to
Kia Car Floor Mats
Can't find what you're looking for?
Full Description
FULLY fitted Car Mats provide the perfect fit. Designed to fit around the contours of the vehicles foot wells and passenger area.
FULLY fitted Car Mats are designed specifically for your Kia Rio, to fit the shape of your foot wells.
All carpets come with a double layer heel pad on the driver side to protect them from wear most include and a locking mechanism to prevent movement (depending on the model of vehicle). All carpet mats have a slip-resistant backing material.
We now offer all Car Mats in several grades of carpet and rubber. See below for an explanation:


Features of STANDARD carpet mats:
Hardwearing 450g carpet
Heel pad on Drivers Mats
Anti Slip Backing
Alternative colour trim options
Features of DELUXE carpet mats:
Additional colour options
Higher quality 650g carpet
Heel pad on Drivers Mats
Rubber anti-slip backing
Alternative colour trim options
Features of SUPER DELUXE carpet mats:
Even higher quality 950g carpet
Heel pad on Drivers Mats
Rubber anti-slip backing
Alternative colour trim options
Features of ULTRA DELUXE carpet mats:

Available in black
Our new 1500g carpet
Optional rubber heel pad on Drivers Mats
Rubber anti-slip backing
Alternative colour trim options
Tough and Hard Wearing
Easy Clean
Waterproof
Ideal for working vehicles and muddy feet
Available in 3mm or 4mm rubber
The Carpet is tough, strong and durable, and improves the look of your car. A heel pad on the driver's side protects the carpet from additional wear to prolong the life of your mats..
The back of the mat has a slip-resistant backing, and each is hand made in England by experienced machinists.
We can trim carpets in any of the available colours and this includes the heel pad on the driver's mat. We offer a wide choice of colours and even a selection of leatherette trims.

Edge trim is bound around the edge of the carpets and stitched securely to prevent fraying of the material.

We will include the default colour trim for your carpet choice for free, but for a small additional charge we'll use an alternative colour of your choice for that custom look!

Heel Pad Options: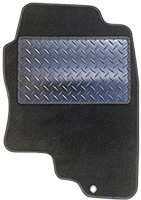 Most of our carpet floor mats include a standard heel pad at no additional charge. This is usually an additional layer of carpet in the same colour as your floor mat, with the same edge trim. It's positioned to protect your driver's mat from the additional wear of the foot movement in the footwell whilst driving.

The thicker carpets cannot have a carpet heelpad, as the materials are too thick to stitch the additonal layer. You can choose to have a rubber heelpad on this however. If you have the carpet heelpad selected when you change the material you will be alerted to any change.
We recognise that some people prefer a simpler look of a plain mat, so you can choose to have NO heelpad and the cost is the same.
We also offer a Rubber heel pad on all carpet qualities. This offers superior protection for your mat. This is a cost option as displayed above.

Embroidery Options: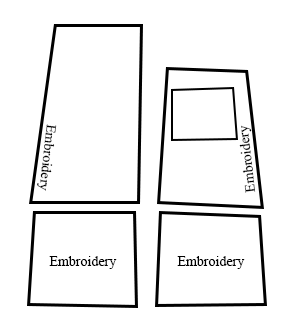 We offer custom embroidered words on carpet mats along the door-edge of the front pair, so on the right-hand side of the driver's mat and left-hand side of the passenger's. If the embroidery lettering you enter does not fit along the outside edge (sill) of the front mats, it will be placed across the mats facing the seats. For an additional charge we can also add the same writing across the centre of the rear mats. This allows you to have a unique personalised interior for your vehicle. The embroidery is machine-stitched onto a colour-matched backing that is then bonded securely onto the mat.
Choice of colour
Choice of style of writing
Your choice of words and numbers up to 20cm wide
Lettering measures around 2.54 cm tall
Optional rear mats included
Customer Product Reviews
Kia Rio 2012 - 2017 (MK3) (Round Locators) Fitted Car Floor Mats
scores

4.9

out of

5
based on
29
ratings.
Excellent quality products.
These mats are excellent. They fit perfectly and look really good. The red on black matches my red Rio perfectly.
Mats are well made good thick pile and look great in my car Thank Gerald
Top quality product and great price.
Great price,look great,good quality . Good range of colours and price range
Lovely mats, grey with red binding , give a touch of elegance! And locating holes exactly matched hooks in car.
good quality fitted perfect good range of choices of colours and decor
I am very pleased with the car mats, I got the silver and black edged ones and they fit well and look rather classy in my car and the quality is good.
Second time I have used you chaps and again I am pleased with the product.
Great colour,fantastic fit, fantastic service
Highly delighted they blend in well with the interior colour and fit perfectly. With having anchor points factory fitted in the front floor wells I no longer have to bother with constantly pulling them back from under the pedals.
Exactly what I was after at a very reasonable price.
excellent quality, good buy
The car mats are very well made and fit my car perfectly.
Very pleased with product, fitting excellent.